Money
Money
14 November 2018 (by admin)
This week in our maths learning we have been exploring money.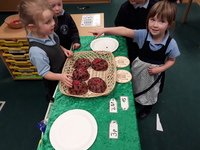 First we shared our knowlege. There were many interesting ideas from buying things, saving it and keeping it in your van for when you need it!
We enjoyed playing a matching and sorting game, using the tongs to find the coins hidden in the sand. Our challenge was to use our maths vocabulary to describe the colour, shape, texture and markings on the coins to our learning partner.
Some of the children acted out '5 Currant Buns' and used coins to pay for their purchase.
We then had fun using real coins to count out different amounts to pay for items in our pet shop. We learnt to put the coins in a line and tap them once to count and find the total.