Our New Mental Health Ambassadors!
Our New Mental Health Ambassadors!
5 February 2019 (by admin)
Our new Mental Health Ambassadors completed their training from the EH4MH team today and were awarded their certificates and badges.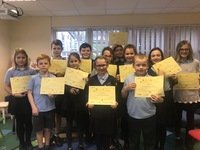 Our Mental Health Ambassadors, along with others trained across Devon, will-
Take an active role in thinking about mental health promotion displays in school.
Participate in assemblies.
Contribute to and feedback on mental health school walks, both in terms of the physical and the virtual environment of the school community, which aim to promote a help seeking environment
Develop pathways to hear student's voices/ student participation.
Feedback findings and developments to the Senior Leadership team.
Meet with other Ambassadors and the MHA Lead, to consider bespoke ideas for your school and 'what next'.
The message on the certificate summed up everything we are hoping for our children at Bishop-
'THANK YOU FOR BEING A DIAMOND IN THE PROMOTION OF CULTURE CHANGE AROUND MENTAL HEALTH'
Share this: