Author Visit
Author Visit
2 April 2019 (by admin)
KS2 enjoyed a visit from an author last week - Steve Clifford. Once again, the children wowed us (and Steve!) with their curiosity, asking some fantastic questions to find out more about Steve's career as a writer.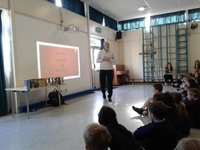 Steve then set some challenges for children to do some writing of their own before holding writing workshops with each year group. We had great feedback from the children and some of them shared stories they had completed at home following the visit.
We hope that the children who purchased some of Steve's books are enjoying them and thank Steve for his time.