Walk to the post box
Walk to the post box
21 May 2019 (by admin)
Before we could post our letters we had to problem solve how to get our letter in the envelope!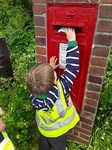 The children were great 'solveasaurs' to work out how to get the letter in the envelope. Some children scrunched and rolled it, some children thought it could not be done! Finally we found out that we had to fold it in half!
On our way to the post box, we learnt how to cross the road safely with an adult.
We also used our good listening ears and looking eyes to identify different birds on our travels.
We enjoyed posting our letters....we hope they get delivered home soon!