Grenville Experience
Grenville Experience
18 May 2021 (by admin)
Y6 had an incredible day at Grenville House.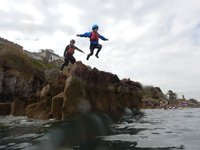 On Friday, after an early start, Y6s got their wet suits on and had the most amazing time coasteering. There were plenty of excited and nervous children, but we were thrilled to see everyone show real resilience. After lunch, the children got to experience the thrill of the high ropes. They had to collaborate and encourage one another as they attempted three different activities, from crate stacking to bouldering.
In the evening, the children got to spend some much needed time to play and reflect on their experiences and their achievements.
The photo attached is just one of hundreds taken that day.