Complimentary flowers...
Complimentary flowers...
26 January 2023 (by admin)
KS1 children have been using their knowledge of creating secondary colours from primary colours to produce bouquets of complimentary colour flowers.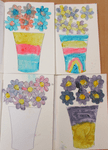 Investigators have been learning about colour in their painting unit for art. This week they experimented with primary colours to make secondary colours and put these all together on a colour wheel. They found that there were complimentary colours and used these to create beautiful bouquets of complimentary flowers! Beautiful.