Number Crunchers!
Number Crunchers!
3 February 2023 (by admin)
Investigators have been crunching numbers to find out if they are an Even Steven or an Odd Todd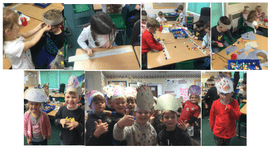 Are you an Even Steven or an Odd Todd? Investigators have been investigating this very question today as part of their 'Number Day' fun. The children first measured their heads using a paper strip and then either rulers or cubes. This gave them a number and they had to recognise whether this was an even number or an odd number - if it's even you're an Even Steven, if it's odd you're an Odd Todd! To show the world their love of either odd or even numbers the children turned their measuring strips into hats depicting Steven or Todd. They look fantastic!