Investigators investigating plants!
Investigators investigating plants!
26 February 2023 (by admin)
This week in Science the Investigators have started their plant investigation.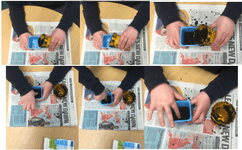 In Science this week, the children in Investigators started off their investigation by planting their seeds ready to observe how they grow over the next 5 weeks. The children decided on their equipment, planted their seeds and recorded their equipment, method and first observations in their Plant Observation Diary. We are really excited to see what will happen next.