Meeting the Fire Bigade!
Meeting the Fire Bigade!
3 March 2023 (by admin)
Today, Year 2 welcomed the Fire Brigade to Bishop!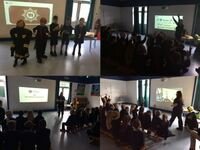 We learned about all the important jobs the fire brigade do to keep us safe. We learned that they not only put out fires, but they also do animal rescue, water rescue and respond to road traffic collisions (RTCs). We saw all of the amazing equipment that fire engines have and even got to try on some of the clothes that fire fighters wear to keep them safe. We also learned about how important it is to know the emergency number (999!) and to know our address so that we can tell the emergency services where we are if we need them.