We Are Programmers!
We Are Programmers!
7 March 2023 (by admin)
We had our first computing lesson where we learned how to move a robot!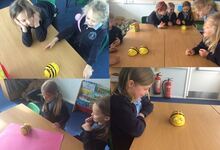 We talked about what the buttons on a floor robot might do and then tried the buttons out. We spent time linking an outcome to a button press. We also considered the direction command buttons, as well as the 'clear memory' and 'run program' buttons. We had lots of fun trying to make our Bee-Bots follow our tracks by programming different commands and testing them out!