Historical thinking...
Historical thinking...
30 March 2023 (by admin)
Investigators brought all their knowledge that they had learnt in the past half term about childhood through the decades to perform one final task.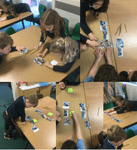 The children sorted a selection of photographs from 1950s to the present day into groups. Each team decided how they were going to group the photos and had their reasons to justify their choices. The children then shared their choices with the rest of the class to see if their opinions and choices matched. This lead to lots of interesting discussion on the differences between the decades and how some things had changed a lot, some a little and how old things had come back around to be new to us now!