Loom, weft and weave...
Loom, weft and weave...
27 April 2023 (by admin)
KS1 children started their Textiles Art unit for this half term by weaving their own placemats.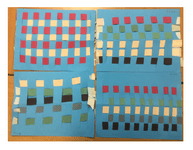 The children started by making a card loom and then selected different paper wefts to start their weaving. We had to keep on remembering to alternate, lots of concentration was needed to remember whether we had just gone over and under! Everyone worked with such effort and concentration to achieve a mix of results - unfortunately there are no action shots of the children but please marvel at the beautiful results!