Marine Biologist Visit!
Marine Biologist Visit!
5 May 2023 (by admin)
The children in KS1 were very lucky to have a visit from a real-life scientist!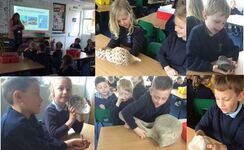 Katie, a Marine Biologist and parent in Adventurers came to tell us all about her work! We are studying the work of scientists this half term, and thoroughly enjoyed learning all about a day in the life of a marine biologist! We even got to look closely at some artefacts that Katie brought in from her expeditions all over the world. Thank you very much to Katie for coming in - we can't wait to have you back!