Stretch Zone
Stretch Zone
28 February 2020 (by admin)
We have been exploring what it means to leave our comfort zone and enter the stretch zone. We talked about how we can achieve more when we stretch ourselves during learning tasks.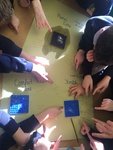 We used a coding came to see what each learning zone feels like. To feel comfortable, we only played on level 1, 2 and 3. Most children found this boring and wanted more challenge!
Next, we tried level 20 where we experienced what the panic zone feel like as we had a short amount of time to attempt the task. Here is what the children said about the panic zone.... 'In the panic zone your brain can't handle anything,' and 'I felt frustrated and angry when I couldn't do it.'
Finally, we explored the stretch zone where children could play from level 5 onwards. This is what we enjoyed the most! Children enjoyed the challenges this presented but were able to achieve the level using resilience and collaboration. Here is what we thought about the stretch zone.... 'You learn the most in the stretch zone,' and 'You are challenging yourself but you are not in a panic.'
We then used bicarbonate of soda and vinegar to represent our brain's activity in each zone!