Handwashing Experts!
Handwashing Experts!
9 March 2020 (by admin)
Mrs Axten trained a new team of 'Handwashing Experts' today in our KS2 assembly!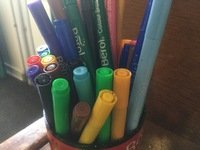 Following on from her work with KS1, Mrs Axten gave KS2 students a fantastic reminder about how to wash our hands properly. We passed around a few objects which had been covered in 'germs' (or in this case, glitter!) to help us to see just how easily germs spread.
Can you see the 'germs' in the photo above?
Can your child show others at home how to make sure that germs have no hiding places on your hands?