British Science Week
British Science Week
12 March 2020 (by admin)
What do you think of when you picture a scientist?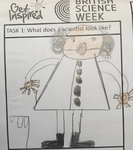 We were asked this question today and drew our initial ideas. Lots of our scientists had wild curly hair, wore lab coats and were busy making potions!
As part of British Science Week's work on 'Smashing Stereotypes', we then explored the work of lots of different scientists. We were surprised to find out that scientists can work with animals (including under water!), study the stars and space, work with computers and discover new medicines as well as work in laboratories. We were inspired by some of the scientists we learnt about who visited dangerous places, were brave enough to say they disagreed with other people's ideas and those who combined their love of other areas with science to create their perfect jobs.
Can children tell you about the scientist they found out about today?
We also enjoyed a very active science-based PE lesson where we explored the movements of different animals, observing how their movements were different to our own and thinking about how we could describe and then replicate their walks, leaps and runs!