Food Technology-DIS
Food Technology-DIS
4 December 2020 (by admin)
On Wednesday, we had a day learning and developing cooking skills to make a Spanish dish!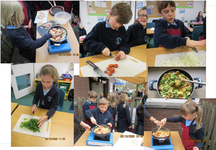 We talked about how to stay safe when using sharp knives and a heat source. We learnt how to chop ingredients safely and hygienically as well as talking about where ingredients ingredients come from. We then used gas stoves to cook the paella! We found out how to check if chicken is cooked as well as when to add each ingredient to the pan.
Once it was cooked, we garnished the paella with parsley and a squeeze of lemon juice before tasting it! We then talked about what could be added to change the taste. We decided it needed more spice and lemon juice!
Here is the link to the recipe which we used in case you might like to try cooking it at home!
https://recipes.sainsburys.co.uk/recipes/main-courses/easy-chicken-and-chorizo-paella