To 20 and Beyond!
To 20 and Beyond!
29 April 2021 (by admin)
This week we have been learning to represent 'teen' numbers with different resources!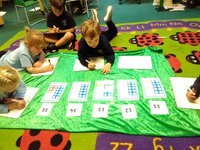 We played a 'What's Missing?' game. We had to use our 'Prove it Panda' talk skills to explain which teen number had been removed. We were amazing Solveadactyls, explaining our ideas by using the language of 'one full ten and how many more' as well as writing the numerals.
Can you play the game at home?