Double Trouble
Double Trouble
26 May 2021 (by admin)
After watching 'Double Trouble' on Number Blocks, we explored different ways to represent doubles!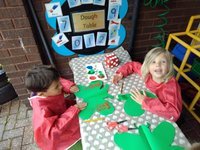 We used various resources to represent doubles. We practised counting on from one group to the other to find the total. We also wrote our own calculations, being real Solveadactyls, explaining our ideas using our maths vocabulary.
What happens when you double a number? Is 6 doubled 12? Can you prove it?