Jack Frost and the Sun
Jack Frost and the Sun
28 January 2022 (by admin)
During our structured PE sessions we have been learning to play a tag game.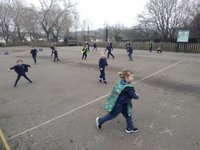 Over the past few weeks, the children have built up their skills in running and developing spatial awareness with a particular focus on looking for spaces to avoid being tagged! The children showed great determination and collaboration when playing the game. We have also been talking about the importance of exercise and the positive impact on our bodies and mental health.
How did you avoid being tagged?