Exploring the Number 6
Exploring the Number 6
1 February 2022 (by admin)
During our maths learning we have been finding out about the different ways that 6 can be represented!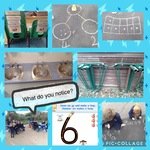 We used our 'subitising' eyes to find '6 and not 6' on our number hunt around school.
We were amazing Solveadactyls when creating the numeral to represent 6, we supported each other and used our talk skills to help our friends improve their learning.
Great fun was had using the part-whole model and using leaves to explore the composition of 6.
Can you remember what we found?