West African Music Workshop
West African Music Workshop
2 March 2022 (by admin)
The whole school were today treated to a West African Music Workshop with Suntou Susso.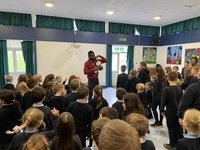 This workshop involved Suntou playing some traditional African instruments and sharing some songs that we all joined in with. Lots of children (and adults!) also had the opportunity to play the instruments!
This was the first whole school event in the hall for two years! What a way to get everyone back together- so special! The children loved the experience and were all smiling and enjoying watching a professional, talented musician entertain and amaze them.