Online Safety Tip 3
Online Safety Tip 3
12 February 2020 (by admin)
Set up parental controls Parental controls help you to block or filter upsetting or inappropriate content, and control purchases within apps.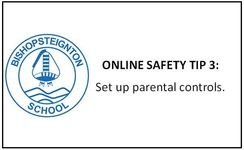 You can install parental control software on your child's and family's phones or tablets, games consoles, laptops and your home internet.
Parental controls can help you to:
-plan what part of the day your child can go online and how long for
-create content filters to block apps that may have inappropriate content
-manage the content different family members can see.

Remember, it's important to discuss why any restrictions have been put in place with you child.
More information about setting up parental controls can be found here:

https://www.nspcc.org.uk/keeping-children-safe/online-safety/parental-controls/