READING NEWSLETTER!
READING NEWSLETTER!
3 March 2020 (by admin)
We are very pleased to share Bishop's first 'Reading Newsletter'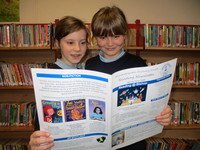 Children will today bring home copies of our new, termly 'Reading Newsletter'. Please share it as a family - there are bits for everyone!

We hope that you will find the newsletter useful and informative and would love to hear any feedback you may have ready for next term's issue.
Thank you to Junior Librarians for your help!