Gymnastic Fantastic!
Gymnastic Fantastic!
5 March 2020 (by admin)
Congratulations to our lovely team of gymnasts from Yr 3,4,5 and 6 who won first place in the Gymnastic Competition on Tuesday evening!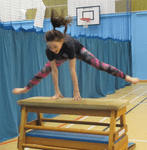 They all performed floor routines and vaults with control, strength, grace and elegance. As a result of their hard work and very impressive performance, all teams got through to the finals!
It was great to see so many pupils taking part in sports competitions! Everyone worked so hard and was absolutely amazing.
You have made us all very proud! Go BISHOP!!