Our Willow Tower
Our Willow Tower
9 March 2020 (by admin)
Have seen our new Willow Tower by the Adventurers class? We are proud to be hosting one of the willow Towers of Concern that some of our children helped to create at part of the Bishopsteignton Festival.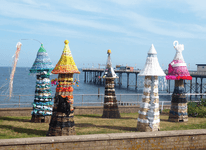 This display was in Teignmouth on the seafront and the Bishop Outdoor Arts Group helped to make them. Members of the group were keen to find possible locations around Bishop for the willow towers and we were delighted to volunteer our school.
Each tower represented areas of concern for the environment. Our Tower is called 'Fashionista' and represents concerns over the fashion industry and it's impact on the environment.