Village Festival
Village Festival
9 September 2021 (by admin)
We had a fantastic day today taking part in a range of activities in the Village Festival!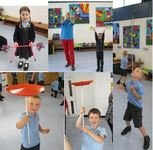 Investigators enjoyed taking part in a circus skills session where we balanced feathers on our finger tips, performed simple tricks with spinning plates and used flower sticks to create simple sequences!
We also enjoyed a Taekwondo lesson,a Forest School session as well as a session run by 'Shute Fruit' where some children made truffles and juice to try!
We can't wait for tomorrow's activities!