Harvest Soup
Harvest Soup
1 November 2021 (by admin)
The children were in awe of the colourful array of vegetables!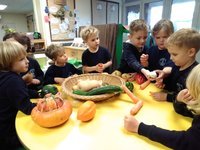 Much time was spent observing, exploring and comparing the vegetables. The children enjoyed smelling the various herbs and talking about their favourites vegetables. They were great at naming most of the offerings and were keen to cut the squashes and peppers open to discover what was inside! Lots of super Stickatops when using the tools safely to peel and chop the vegetables. We look forward to tasting the soup for snack time tomorrow!
Thank you for your generous donations. The soup making will continue tomorrow!