Diwali Celebrations
Diwali Celebrations
10 November 2021 (by admin)
This week we have been finding out about the festival of Diwali.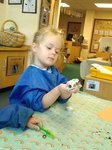 Great fun was had exploring the clay to make diva lamps. The children developed their wrist and finger muscles to squeeze, stretch, pat, roll and coil the clay. They explored using one hand, then two hands together, trying to keep the clay on the table! Lots of amazing Shareodactyls, learning new vocabulary and sharing of ideas.
Can you remember why diva lamps are lit?