Inter house Competition
Inter house Competition
1 April 2022 (by admin)
This week has seen the class evaluate Easter Egg boxes and say what they have found eye-catching about different designs. They then went on to design their own boxes for a specific age group, such as Key Stage 1 or Reception.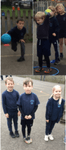 We also had our inter house competition this week that saw the four houses compete with each other in a variety of tasks. All the children had great fun and thoroughly enjoyed the activities provided by Mr Flint and Mr Palmer.
We have also started to mould clay over our pipe cleaner models in Art. We have been studying Giacometti and trying to make sculptures similar to his work. We had to show resilience as we found this difficult, the clay needed to cover the pipe cleaner but not weigh so much that it fell over. We're really happy with the results though.