Libraries Well-being Week: Day 2!
Libraries Well-being Week: Day 2!
9 October 2018 (by admin)
Switch Off: Pick up a Book!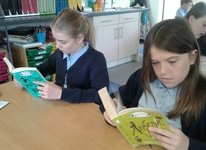 "Sometimes people think books are boring compared to electronics but they are so lovely if you just make the effort to switch off and read more." ~ Kitty, Junior Librarian
Have you managed to find time to "Switch Off: Pick up a Book" yet?
We're pleased to hear about some increased reading in classes across the school with children finding a little extra time in their day to prioritise reading.
Mrs Howe has noticed some real enthusiasm spreading among the children following Adventurer's class visit to our library!
Currently, Discoverers and Voyagers are leading in the KS2 "Minutes Read" competition, as calculated by our AR system. Well done Y3/4! Will either class in Y5/6 manage to over take by Thursday?
A huge well done to Investigators who have quizzed on 9 books in total this week - the most in any class! Will they still be top by the end of the week?
Please remember to send photos in for our gallery! Maybe settle down to a read before bedtime, as Juliette suggests?
"I love reading before I go to bed, it's really relaxing. Screens don't let you switch off in the same way."~ Juliette, Junior Librarian