Scrapbook Success!
Scrapbook Success!
29 November 2018 (by admin)
We are very proud of our WW1 scrapbooks which we have been adding to over the term!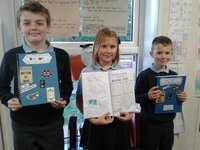 Children in both classes worked hard this morning to add the finishing touches to their scrapbooks ready to share them with parents tomorrow at our Curriculum Celebration.
The scrapbooks contain examples of our cross-curricular history and literacy learning including letters, propaganda posters, weapons fact sheets, Christmas cards, diaries (completed for homework) and more!
We also look forward to giving you a taster of some of our art and DT learning as we show you how to finger knit and help you to create your own WW1 landscape pictures. Of course, there will also be an opportunity to admire our brilliant works of art!
For something slightly different..are you up to challenge of some Y5/6 arithmetic? If so, some of the children will be ready to show you some of the strategies we use in class.