Ship Ahoy!
Ship Ahoy!
17 January 2019 (by admin)
After our phonics learning about the 'sh' digraph, some of the children decided to make a large scale pirate ship!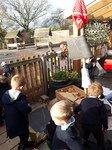 It was not long before most if the class had joined in. The children were so engaged. It was great to see their collaboration and problem solving skills in action. A great opportunity to develop language and discussion skills too!
The children wrote their own signs, badges and painted flags and maps too. We finished the session by singing a pirate song!