When I grow up I would like to be ....
When I grow up I would like to be ....
27 March 2019 (by admin)
We had a great day finding out about our chosen professions!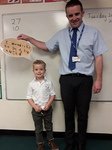 We used our talk skills to name and describe our job roles. It was fun exploring the various tools and equipment for each trade too! We had firefighters, police officers, builders, vets, ballet dancers and many more!
During the day the children enjoyed using role play to share their knowledge and understanding. We were even treated to a display of flamenco dancing! Watch out Mr Killoran, think we have a new headteacher in the making!
Thank you for all your efforts with the costumes.