p-o-p!
p-o-p!
7 October 2019 (by admin)
In phonics today we learnt the 'p' sound.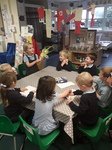 We practised forming the 'one armed robot' letter in the sand and p-ai-n-t!
We also used our robot voices to orally segment words, p-a-n, p-o-t, so we could hear the three sounds.
The best part was making popcorn, we even used our popcorn to make a 'p' letter shape, but the most enjoyable part was eating it! Yum!