Online Safety
Online Safety
28 October 2019 (by admin)
In our KS2 assembly today we talked about how what we say, post and share online can affect others.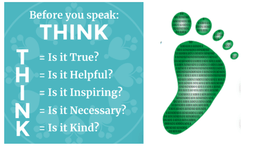 We discussed the poster above which encourages us to THINK before we speak, post and share.
We also talked about the idea of us all having 'digital footprints' and how these can affect us in later life.
We finished by reminding ourselves of what we should do if we see something hurtful or offensive posted online.
Can your child explain any of the key ideas?